Being on top of health and safety is important in any workplace, but when you work with children it is imperative that you're always on top of everything. Children are still learning the ways of the world, and so it is our responsibility to guide and support them. We are going through uncertain times at the moment and as adults we may not know what is going on, so we can only imagine what everything looks like from their perspective.
As nurseries and schools start to reopen it is key that the right message is sent to the children, so that they understand what they need to do, but most importantly that they still have fun and aren't feeling anxious or unsure. See below a childcare checklist to help assist you with achieving this:
First things first check you, your colleagues and the children are safe to return. Have your staff and parents complete a health questionnaire to check against COVID-19 symptoms. If anyone themselves has had symptoms or someone within their household has had symptoms in the last 7 days, ensure they do not return until they have quarantined for 14 days.
Before welcoming all colleagues back and officially reopening the doors, ensure the premises is thoroughly cleaned. When sourcing products for the clean, do your research and make sure you purchase the best tool for the job. (Look out for accreditation EN1276)
 Put a strict cleaning regime in place so the high cleaning standards are maintained moving forward. Make sure you pay particular and regular attention to the high risk areas, such as playing surfaces, climbing frames etc.
Have cleaning stations created to put used equipment / toys, so they can be disinfected before being put back out to use in the next session / day
Limit the amount of children in attendance at one time, split classes were possible
Rearrange furniture so that tables and seating areas abide by distancing rules
Create flyers / newsletters explaining the guidelines in place and send to the parents and staff ahead of opening for reassurance
Create a short story with pictures (can be made on powerpoint / clipart) about social distancing, washing hands as a fun way of explaining what to do to the children
Children love colourful pictures so use bright visual aids to mark 2 metre distances around the building
Have hand sanitiser stations throughout the building, ensure the hand sanitiser is the kindest it can be for children, alcohol free is highly recommended for this. (Look out for EN1500 accreditation)
Use visual aids at all hand stations and in toilets around how to wash your hands
Purchase some small hand gels for you and your staff, as your job can be very active and often you'll be outside with the children, it is handy to have a little bottle on your person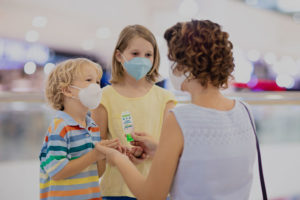 These are simple yet effective ways to ensure the environment is safe but not too daunting for the children, and creates some peace of mind for the parents.