Anti Bacterial Multi Purpose Cleaner
Clean-That Anti-Bacterial Multi-Purpose Cleaner is certified to kill 99.99% bacteria, specially formulated to leave surfaces hygienically clean. Our fast, effective and ready to use solution is designed to give long-lasting protection with advance barrier technology protecting surfaces from bacteria, yeasts and mould build ups for up to 30 days.
Features and benefits include:
Alcohol- Free leaving no stains or residue

Bleach and perfume free

Kills 99.99% bacteria in 30 seconds (industry standard is 2 minutes)

Non-direct food safe

Remains effective even when dry

Ready to use solution

Economic in use

Independently tested

EN1276 Accreditation
Whether used in fogging, spraying or cleaning with a micro-fibre cloth, our Anti-Bacterial Cleaner leaves no residue and surfaces essentially ready to use directly after application.
Suitable for a variety of surface types including those in offices, warehouses and manufacturing environments, vehicles, leisure, MOD and domestic environments.
Listed below is just a few of the bacteria , yeasts and moulds which Clean-That Anti Bacterial fluid has been successfully tested against .
Bacillus subtilis

Clostridium difficile at spor level

Enterobacter cloacae

Escherichia coli o157:H7

Legionella pneumophila

Listeria monocytogenes

Proteus vulgaris

Pseudomonas aeruginosa

Pseudomonas putida

Salmonella choleraesuis

Salmonella typhimurium

Staphylococcus aureus

Streptococcus faecalis

Streptococcus lactis

Candida albicans

Rhodotorula rubra

Saccharomyces cerevisia
5l Anti Bacterial Multi Purpose Cleaner Refill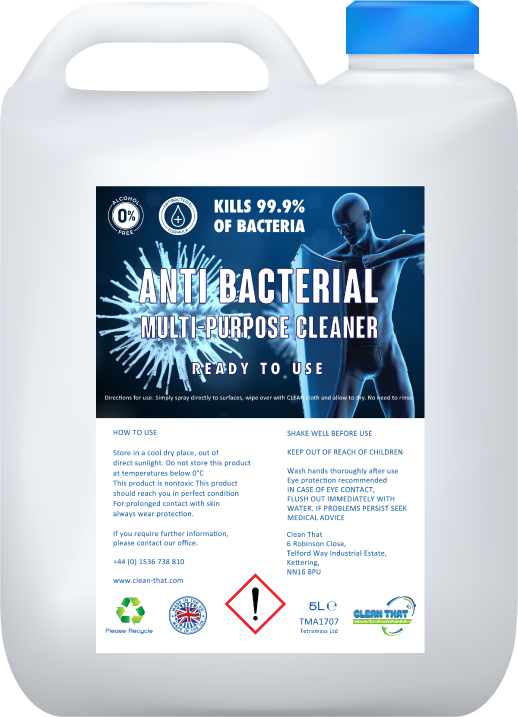 Multi Purpose Commercial Cleaner Refill
25l Anti Bacterial Multi Purpose Cleaner Refill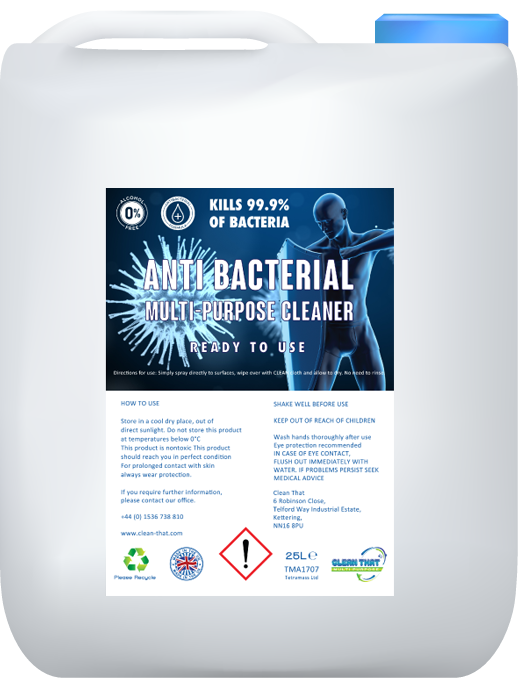 Multi Purpose Commercial Cleaner Refill
500ml Anti Bacterial Multi Purpose Spray

Our 500ml bottles can be re-used by refilling them with one of our 25l or 5l bottles
750ml Anti Bacterial Multi Purpose Spray

Our 7500ml bottles can be re-used by refilling them with one of our 25l or 5l bottles
Suitable For Cleaning The Following